Dr. Jeff Fahy of Premier Women's Health to Speak at Infirmary Health Community Outreach Event in Daphne
Yale-Trained, Board Certified Gynecologist and Pelvic Surgeon to Offer Real Solutions for Women Suffering from Urinary and Pelvic Issues
Bay Minette, AL (August 20, 2015) – Dr. Jeff Fahy of Premier Women's Health will be the featured speaker at a community outreach event sponsored by Infirmary Health on Thursday evening, September 15. The event begins at 6:30 pm with doors opening at 6 pm. This free community event, entitled "REAL SOLUTIONS FOR STRESS URINARY INCONTINENCE AND PELVIC ORGAN PROLAPSE" will be held at the Premier Women's Health Daphne location: Infirmary Eastern Shore Medical Complex, 7101 US Hwy 90 – Suite 203 – located directly across the street from Home Depot.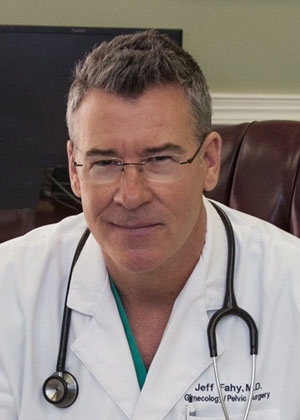 A Yale University-trained and board certified gynecologist and pelvic surgeon, Dr. Fahy will discuss the topic of stress urinary incontinence and pelvic organ prolapse and offer information on treatment options available for women who suffer from these conditions. Pelvic Organ Prolapse affects more than 30 million women. Prolapse occurs when the tissues that hold the pelvic organs in place become weak or stretched, resulting in the displacement (prolapse) of the pelvic organs from their normal positions. Women that have had multiple pregnancies or vaginal delivery are at higher risk for developing prolapse. (Photo: Dr. Jeff Fahy)
"Prolapse is a distressing condition that may negatively affect a woman's quality of life," said Dr. Fahy. "There are surgical and non-surgical treatment options available, states Dr. Jeff Fahy.  Prolapse treatment options may vary depending on the type and severity of the prolapse as well as general health, age and desire to have children.
Premier Women's Health offers transvaginal mesh as a surgical option for patients with pelvic organ prolapse. Surgical options are used to help return prolapsed organs to a more normal anatomical position and to strengthen structures around the prolapsed area to maintain support. If prolapse is left untreated, the condition may worsen. There are risks associated with this procedure, however, and patients should discuss with their doctor whether this procedure is right for them.
Dr. Fahy will also talk about treatment options for women struggling with stress urinary incontinence (SUI). SUI is triggered by activities that put pressure on the bladder such as coughing, sneezing, laughing, exercising and lifting – which results in accidental urine leakage. SUI is more common in women than men and is typically caused by weakened pelvic muscles and tissue brought on by age, pregnancy, childbirth, obesity, smoking, family history
or other medical conditions.
"Although aging may contribute to developing stress urinary incontinence, this condition isn't normal at any age," said Dr. Fahy. "This misconception causes many women to delay discussing their symptoms with a healthcare provider, in some cases for years."
Premier Women's Health also offers mid-urethral sling systems ("slings") as a treatment option for women with stress urinary incontinence (SUI).
"For many women, stress urinary incontinence is distressing and impacts daily life," said Dr. Fahy. "For the right patient, the sling can restore continence and help her regain the lifestyle she previously enjoyed."
Because space is limited – reservations are required.  Those interested may call 251.937.2380 to reserve seats today.
About Premier Women's Health, Dr. Jeff Fahy, M.D.
Premier Women's Health is a gynecological practice dedicated to providing comprehensive care through preventive and corrective therapies as well as experienced diagnosis and treatment of related issues with minimally-invasive surgical and non-surgical interventions. Premier Women's Health is led by Dr. Jeff Fahy, a Yale University-trained and board certified gynecologist and pelvic surgeon selected as one of America's Top GYN doctors by the Consumer Research Council. He specializes in the treatment and surgical intervention of pelvic organ prolapse, incontinence, benign pelvic masses and pelvic pain. With three South Alabama locations, the practice also offers women at all stages of life a wide range of individualized therapies including laser skin care services provided by a licensed aesthetician, medical weight loss and effective hormone treatments, including bio-identical hormone pallet therapy.  For more information, call 251.937.2380 or visit www.drfahy.com.
TIP SHEET: Pelvic Organ Prolapse & Stress Urinary Incontinence
The Statistics
30 million women are affected by pelvic organ prolapse.
 50% of women who have had children experience pelvic organ prolapse.
A woman's lifetime need of surgery for prolapse repair is 11%.
1 in 3 women experience bladder leakage in their lifetime.
In a clinical study of 131 women, more than 40% reported that urinary incontinence affected their work or other activities.
Less than 50% of women with urinary incontinence have discussed their symptoms with a health care provider – 30-50% never seek any type of treatment.
An estimated 15-20 million people in the United States have bladder control problems, and it is nearly twice as common in women as men.
80-90% of cases can be treated successfully.
Billions of dollars are spent annually on incontinence products (in North America)
More than 1 million women have received American Medical Systemsslings to treat bladder leakage.

(Source: American Medical Systems)